Happy New Year! 
Hope you enjoyed holidays and are ready to plunge into 2019!   I am here to keep you up to date on the progress of Crossing Jordan Kickstarter Campaign. I recently submitted my project for approval and now waiting to hear back from the powers that be at Kickstarter. If all goes without a hitch I plan to launch on Tuesday, January 8th!  30 days of kickstarter fun.. Keep your eyes open as there will be an Early Bird special!
I thought I would share the artwork that will be used for many of the Crossing Jordan KS rewards; posters, t-shirts, note cards, signed artwork.  Shhh
The beautiful watercolor paintings by RI artist Patricia A Almonte will be the backdrop for the album art and will be offered in several ks rewards.  The fun Crossing Jordan band of angels at heaven's gate cartoon logo was created by California artist Shaenon Garrity, will be used for t-shirts, posters & various other pr merch.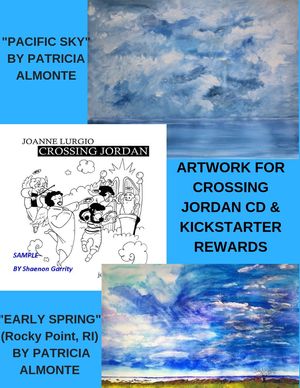 Countdown to KS launch, Tuesday, January 8th .. I am getting excited.
Until then, best Joanne!